B4U Premier Cryptocurrency Wallet and Exchange platform
Here at B4U are proud to be at the forefront of the cryptocurrency trading market providing a cryptocurrency wallet and exchange facility for our clients. We have built a safe and secure environment in which to buy cryptocurrencies and traditional currencies with confidence. Traditional currencies can be transferred direct into your account, converted into a cryptocurrency of your choice and deposited into your wallet. The key to this is our state of the art cryptocurrency wallet and exchange. We are well aware that the industry is gathering pace, gaining in popularity and becoming an integral part of the traditional business arena. Many people are now actively trading the likes of Bitcoin, Bitcoin cash, Ethereum, Ripple, Litecoin, USD and Ringgit and seeking a secure environment in which to do so. Confidence is the key going forward, confidence in the ability to deal real-time and confidence in the security of your Cryptocurrency Wallet. We will now take a look at some of the other important elements of our cryptocurrency wallet and Exchange facilities. Buying and storing cryptocurrencies We appreciate that maximum security is a must for those trading cryptocurrencies and therefore our cryptocurrency wallet and exchange facilities abide by all best practices. Your currencies are safe, your wallet protected and our platform utilises the latest in software technology. The B4U brand may be a relatively new entry to the market but those behind the company have experience, a track record and perhaps most importantly we appreciate what our customers want. While some cryptocurrency broker services have appeared without a deep-seated knowledge, we know our markets and we know how they work. In the early days of cryptocurrencies there was a general lack of regulation and structure to the market. However, the exchange market you see today is unrecognisable to that of 10 years ago and is still developing. We believe the ability to expand our services, improve our security even more going forward and allow customers to trade with confidence makes us stand out from the rest. Next, how to trade cryptocurrency…. How to Exchange cryptocurrency We buy and sell cryptocurrencies on your behalf using the blockchain system which incorporates all transactions for individual currencies. As you will be aware, the blockchain layered structure ensures that every currency trade is validated allowing each element of currency to be traced back to the original transaction. In line with best industry practice, each transaction is identified by public keys only with private keys remaining secure. While public keys will indicate the path of cryptocurrency transactions, all your Exchange are anonymous and you will not be identified in the public domain. What cryptocurrencies can you trade? It is fair to say that Bitcoin was the first cryptocurrency to hit the headlines and open the market to many investors and traders. This has allowed an array of other currencies to be created and we are able to accommodate the leading currencies which include Bitcoin, Bitcoin cash, Ethereum Ripple, Litecoin, USD and Ringgit. Whether you wish to cash out your Bitcoins into a traditional currency or perhaps switch into one of the other leading cryptocurrencies, the choice is yours. As the sector continues to grow, with more than 1000 cryptocurrencies now available, we will seek to accommodate trading amongst the leading cryptocurrencies (liquidity is the key here). Cryptocurrency exchange rates Our trading platform displays real-time Cryptocurrency Exchange rates allowing you to transact at the touch of a button. Those who follow the cryptocurrency market will be well aware of recent volatility and the need for real-time trading within a rigid structure. Downtime, slow exchange-rate displays and frozen screens can be costly but thankfully they are a thing of the past. Our software will ensure that you have your finger on the pulse and are able to trade 24 hours a day seven days a week. We have a preference for the more liquid cryptocurrency markets where prices remain true and both large sales and purchases can be accommodated. We believe this is the key to the long-term future of cryptocurrencies trading, liquidity, instant settlement, real-time prices and above all investor confidence in our platform. As investors and businesses continue to build their confidence in cryptocurrencies we can only see further growth in their use in the wider business market. Download our B4U Cryptocurrency Wallet and Exchange App We fully appreciate that the vast majority of our clients will be looking to monitor and trade cryptocurrencies on the move. As a consequence, our B4U App is now ready to be downloaded and installed on your mobile device. A simple tap of your mobile phone will open the marketplace, select your currency, trade and deposit back into your wallet. Rest assured, while you have instant access to the markets your App and trading wallet are safe and secure under several layers of protection. Cryptocurrency news and trends The market for cryptocurrencies is extremely fast-moving and we fully appreciate that news and views move markets. In the days and weeks ahead we will be publishing articles about the array of cryptocurrencies we trade. While the trend is your friend there is also a need to keep up to date with the latest news and views from the marketplace. We know that the initial regulatory concerns have been addressed and are starting to subdue. Governments and regulators now appreciate that cryptocurrencies are here to stay and are becoming an integral part of the worldwide economy. Today's news is history tomorrow, tomorrow is another day. The future of cryptocurrency exchange trading The world of cryptocurrencies is still in its relative infancy but is certainly developing, attitudes are changing and what was once seen as a niche market is now seen as a mainstream market. We believe that the more liquid cryptocurrencies have a greater chance of making it into the main business market with liquidity vital. As more and more consumers request the option of paying in cryptocurrencies such as Bitcoin this will place pressure on businesses to accommodate their customers. There has always been a speculative edge to the traditional currency exchange markets and cryptocurrencies are no different. We know that traders tend to grab the headlines but without their input this would significantly reduce liquidity. Traders support the opportunity to buy and sell cryptocurrencies in large amounts without having a major impact on the exchange rate. Looking to the future, this is something which will instil more and more confidence in the wider business arena. While many business people initially viewed cryptocurrencies with a degree of scepticism and trepidation, these negative outlooks are now a thing of the past. Contact us We believe it is vital that those entering the cryptocurrencies market are fully aware of the potential rewards as well as the potential risks. As a consequence, we will be publishing an array of articles on our blog giving information on how to trade currencies, how to protect your cryptocurrency assets and ensure that your wallet is safe and secure at all times. B4U is a forward-thinking customer based cryptocurrency wallet and exchange facility which is leading the way. We are more than just a simple Cryptocurrency Exchange, we offer real-time support, utilise the latest exchange software and are extremely confident in the services we provide. Sign up and start trading cryptocurrencies today Setting up a cryptocurrency wallet and exchange account could not be easier. Sign up, deposit your funds and you are literally ready to start trading in an instant. However, if you require guidance or assistance about how to exchange cryptocurrency we will always be there to help.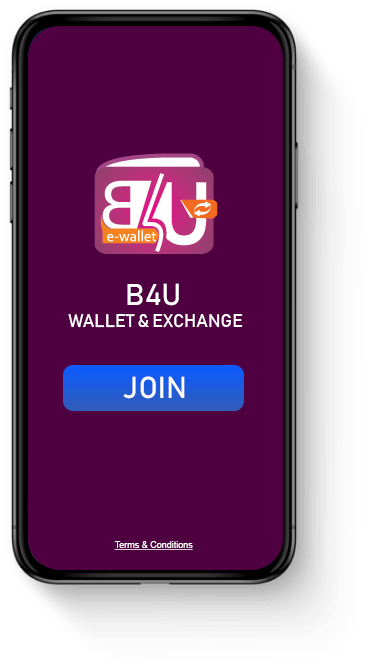 B4U Cryptocurrency Exchange helps you buy and sell Cryptocurrencies in three easy steps
Sign up B4U Cryptocurrency Wallet

Sign up for a free B4U Wallet on web, iOS or Android and go through our easy verification process.

Deposit Money

Select your preferred deposit method like bank or credit card and deposit money into your B4U Wallet.

Buy All Cryptocurrencies

Buy Bitcoin, Ethereum, Dashcoin, Litecoin, Ripple and many more! We also make sure it's stored safely, and easy to send to friends.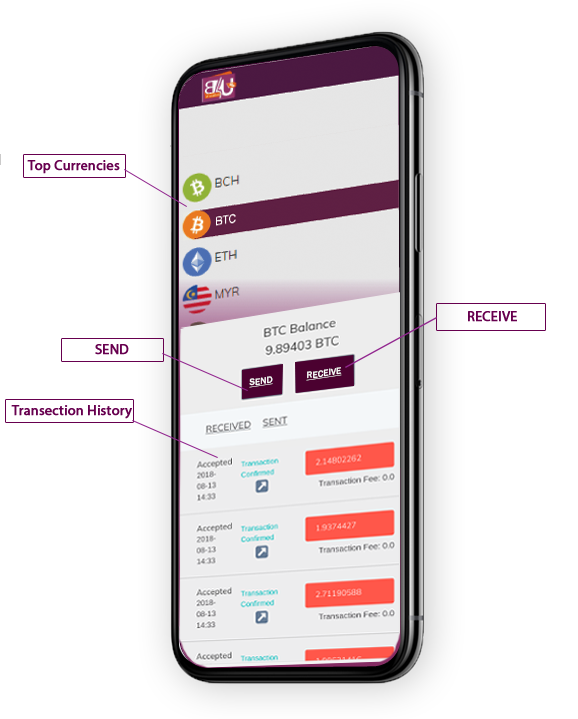 Try B4U Blockchain Wallet Application for free!
Big, small, online, offline, local or international. Size doesn't matter. We work on diverse projects for top brands as well as for cool startups. Check out some of our favorites. Read More
Security is vital when it comes to cryptocurrency trading and cryptocurrency storage. Therefore you will be glad to know that the B4U trading exchange and cryptocurrency wallets are extremely safe and secure. We offer a number of different security levels for usernames/passwords to mobile phone PIN numbers and then we have the public and private wallet keys. The block chain wallet application is easy and maintenance is very straightforward. Opening your cryptocurrency wallet today The process of opening a cryptocurrency wallet could not be easier. All you need is a valid email address, proof of identification and a mobile phone for added security. You can literally be up and running and trading the latest cryptocurrencies in just a few moments! Learn how to use a blockchain wallet If you think of a cryptocurrency wallet as a normal wallet, holding your money and perhaps some documentation, you won't be far wrong. This is the place in which you store records of your cryptocurrency assets. The digital currency itself is held with a central register which is updated every time you buy and sell for example Bitcoin or any other type of cryptocurrency. When your cryptocurrency wallet is up and running you will be given a public access code and a private access code. These access codes are used to route cryptocurrency purchases and sales to and from your wallet and update the relevant register. The private access code is something unique to you and should be stored safely and securely. This is the key to opening the files which confirm your cryptocurrency assets. We provide secure cryptocurrency storage Our Blockchain wallet can be used with Android and iOS operating systems and is also mobile compatible. Simple usernames and passwords are the first level of security with your private security key the ultimate safety mechanism. This not only allows you to confirm cryptocurrency transactions but also create a backup of your wallet which can be recreated on any device. It is essential that your private security key is not shared with any third parties. How to deposit and withdraw cryptocurrency You can literally deposit and withdraw cryptocurrency from your Blockchain wallet at the touch of a button. For those not aware of the Blockchain system, as the name suggest it is built of virtual blocks which record the details of each and every transaction for different cryptocurrencies. Therefore, this automatic system can instantly check the validity of a transaction thereby eliminating fraud and instilling confidence in the system. While B4U is based in Kuala Lumpur, Malaysia we have connections with an array of financial institutions including Bank Negara Malaysia. This gives our customers confidence in our safe and secure structure and the way in which we abide by the codes of best practice, allowing traders to trade. As many of you will be aware, cryptocurrencies are now being used more regularly in the wider business market and the niche tag was lost some time ago. How to buy and sell cryptocurrency Due to the way in which Blockchain wallets are structured all trades are anonymous with the only reference being to the wallets of the buyers and sellers. Each wallet has both a public and private key which allows cryptocurrencies to be deposited and withdrawn by individual customers. There is a need for identification when setting up your Blockchain wallet to ensure that you are who you say you are but these details remain private and confidential. How we protect your cryptocurrency wallet We operate cryptocurrency wallets which have multiple levels of security to avoid fraudulent activity. There is also an onus on our customers to ensure that their private keys, as well as their standard wallet login details, are kept safe and secure. Unfortunately, we have seen instances where people have lost their wallets without a backup of their wallet or private key. We can advise you about simple security, ways in which you can backup your wallet and protect your cryptocurrency assets going forward. Start cryptocurrency trading today In many ways the beauty of the cryptocurrency industry is its simplicity and the ability to trade in an instant. Trading exchange software is safe, secure and extremely reliable and the simple structure of Blockchain wallets is the key to their success and security. You could literally be up and running in a matter of minutes after submitting your Blockchain wallet application. We will walk you through the process, advise you about security and be with you every step of the way. As cryptocurrencies become more popular amongst mainstream business groups many expect trading volumes to mushroom. Digital currencies have been around for many years now but it is only recently that the likes a Bitcoin began to make waves. While many everyday items and services can now be paid for using a cryptocurrency we've also seen expensive properties changing hands in exchange for cryptocurrencies. Digital currencies have now come of age and we can offer you a safe and secure environment in which to buy/sell and store your cryptocurrency assets.